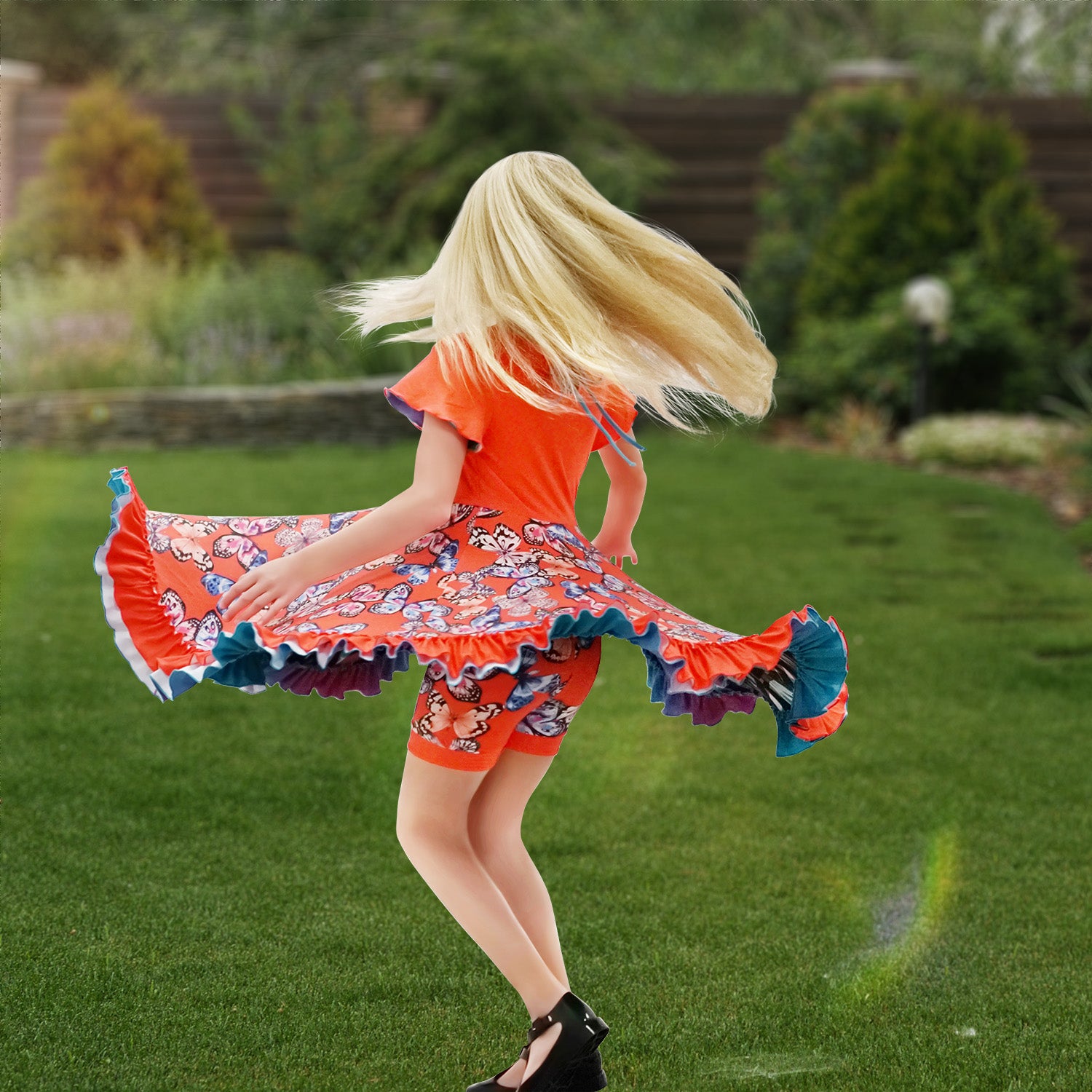 Lola Dress - Butterfly Ombré Twirling Reversible
$74.99
Regular price
$149.99
Lola Dress: Butterfly Ombré Twirly Reversible Vacation and Christmas Dress
A girls' butterfly dress is exactly what she needs. Maybe there's an at home celebration coming up, or she wants to dress up for some imaginative playtime. Perhaps it's simply time for her to have a fun new play dress. Either way, the Lola Butterfly twirly reversible dress is perfect. As the name suggests, this unique twirly dress is totally reversible – it's two twirly dresses in one! She can get two brand new outfits, but mom only has to pay a single price. It helps that this might just be the coolest spinning dress your lovely lass will ever own.
Oh, the Spin of It All
There are two sides to every story, and there are two sides to our butterfly dress for girls, too. One side is a bright, eye-catching shade of red. The bodice and the lacy trim of the skirt are solid red, creating a stunning contrast to the butterfly-printed skirt. Shades of orange and blue complement the radiant hue. The print repeats on the convenient shorts that come with the dress. They ensure that your little girl can spin, swing, and do cartwheels without a care.
Let's flip it and reverse it! Now the twirling dress is all ombré shades of blue, turquoise, and purple. You can really see the ombré pattern on the bodice and the skirt's trim. The skirt and matching biker shorts feature an eye-popping illusion pattern that will look terrific as your little girl spins and swirls. It's sure to become her favorite party dress.
Snag the Lola twirly girls' butterfly dress from Sara Dresses, and don't forget to sign up with us. You'll save 10%!
Softest fabric for maximum comfort.
Machine washable.
Stretchy Knit Polyester 95%/Spandex 5%
Highest quality materials used, including soft tulle, delicate lace, and exquisite embellishments.
All dresses are lined with premium cotton for maximum comfort.
Stock: All items in stock, except those on pre-order.
Size: We run true to size, with "how to measure" guidelines provided
US Shipping: Ships from NY via USPS.
Canada Shipping: Ships from Ontario via Canada Post.
Processing: All orders processed within 24-48 hours.
Free shipping on orders over $60
Usually ships in 24 hours
---
Consult a stylists! Chat now
---
Lola Dress - Butterfly Ombré Twirling Reversible
$74.99
Regular price
$149.99
Shipping & Returns
International Shipping
We are happy to announce we officially ship internationally! All orders are dispatched from our US warehouse within 2 - 3 business days.
Order tracking
Tracking numbers are automatically sent as soon as your order is packed. Please check your junk folder if you do not receive one 72hrs after placing your order.
Get in touch
If you have any questions about your order, please chat or call (800) 513 7421. Our customer service is available Monday through Sunday from 8am until 9pm est.