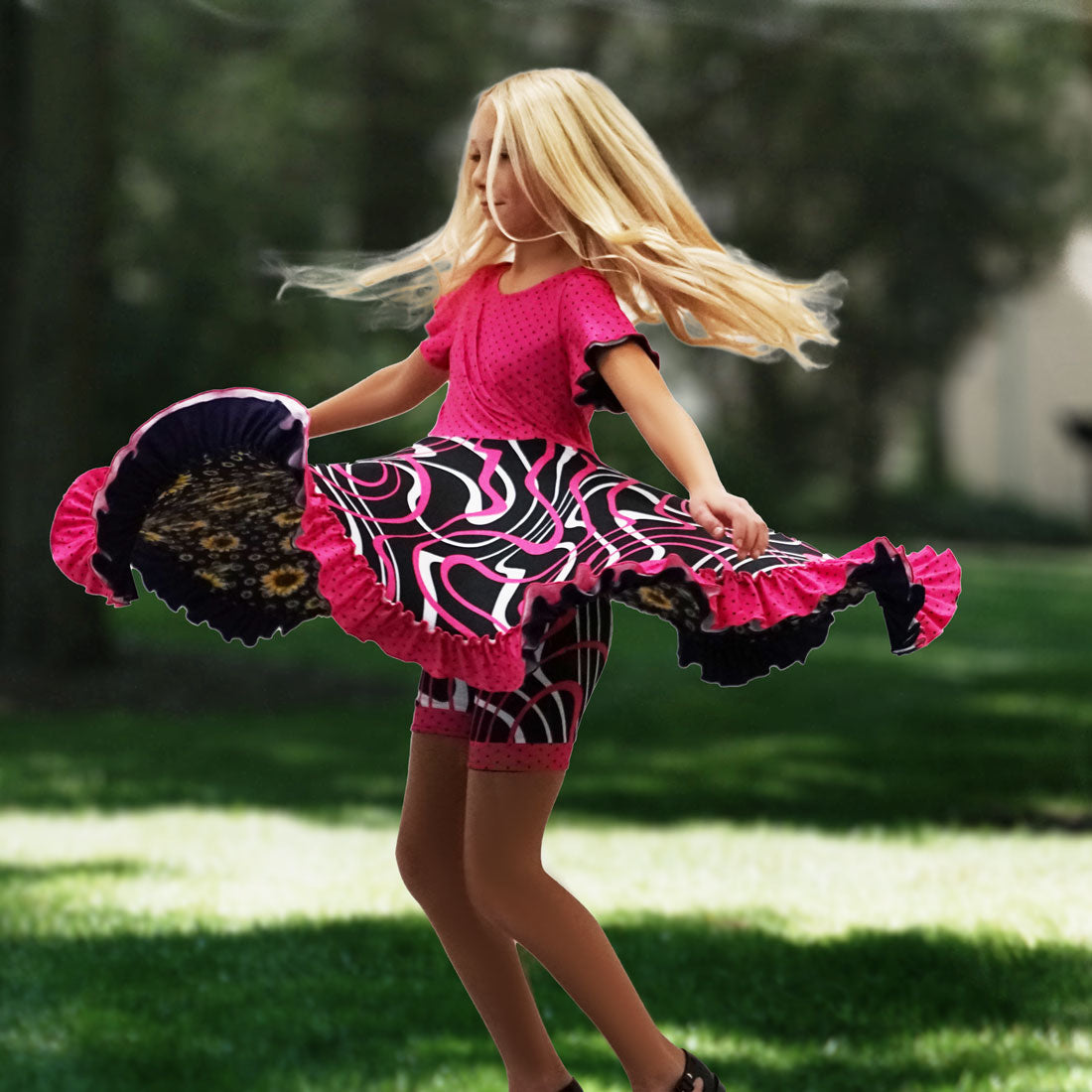 Lola Dress - Sunflower Swirl Twirling Reversible
$74.99
Regular price
$149.99
Our Lola reversible dress is perfect for playdates, school days, and any other occasion when your little girl wants to wear a twirling, whirling dress. The Sunflower Swirl twirly dress boasts a stunning spinning skirt that bells out every time she pirouettes. She'll spin just like a little top every time she wears her new frock. Because Sara Dresses knows that little girls love to frolic and play regardless of what they have on, we have a dress that will carry her through every cartwheel and game of tag.
On the Reverse
The most important thing you should know about the Lola Sunflower twirly reversible dress is that it is, indeed, reversible. Turn it one way and it pops with a gorgeous pink and purple palette. The twirling skirt features a groovy swirl design in shades of purple that's perfectly offset by the pink bodice and the trim around the skirt. The dress comes with a cute pair of shorts in the same swirling twirling pattern. They allow your little girl to romp and run all she likes.
Reverse the twirly dress and everything is different! Now your lovely lady has a navy blue and yellow twirly dress. The twirling skirt is fresh and bright thanks to a pattern of happy sunflowers. Those cute shorts flip inside out, too, to reveal a matching sunflower print. Your little girl will get two new twirly dresses in one! That's fun for her and fantastic for mom.
Find a twirly reversible dress that allows her to twirl and see her twirling to her heart's content, and get it at Sara Dresses today!
Softest fabric for maximum comfort.
Machine washable.
Stretchy Knit Polyester 95% Spandex 5%
Highest quality materials used, including soft tulle, delicate lace, and exquisite embellishments.
All dresses are lined with premium cotton for maximum comfort.
Stock: All items in stock, except those on pre-order.
Size: We run true to size, with "how to measure" guidelines provided
US Shipping: Ships from NY via USPS.
Canada Shipping: Ships from Ontario via Canada Post.
Processing: All orders processed within 24-48 hours.
Free shipping on orders over $60
Usually ships in 24 hours
---
Consult a stylists! Chat now
---
Lola Dress - Sunflower Swirl Twirling Reversible
$74.99
Regular price
$149.99
Shipping & Returns
International Shipping
We are happy to announce we officially ship internationally! All orders are dispatched from our US warehouse within 2 - 3 business days.
Order tracking
Tracking numbers are automatically sent as soon as your order is packed. Please check your junk folder if you do not receive one 72hrs after placing your order.
Get in touch
If you have any questions about your order, please chat or call (800) 513 7421. Our customer service is available Monday through Sunday from 8am until 9pm est.