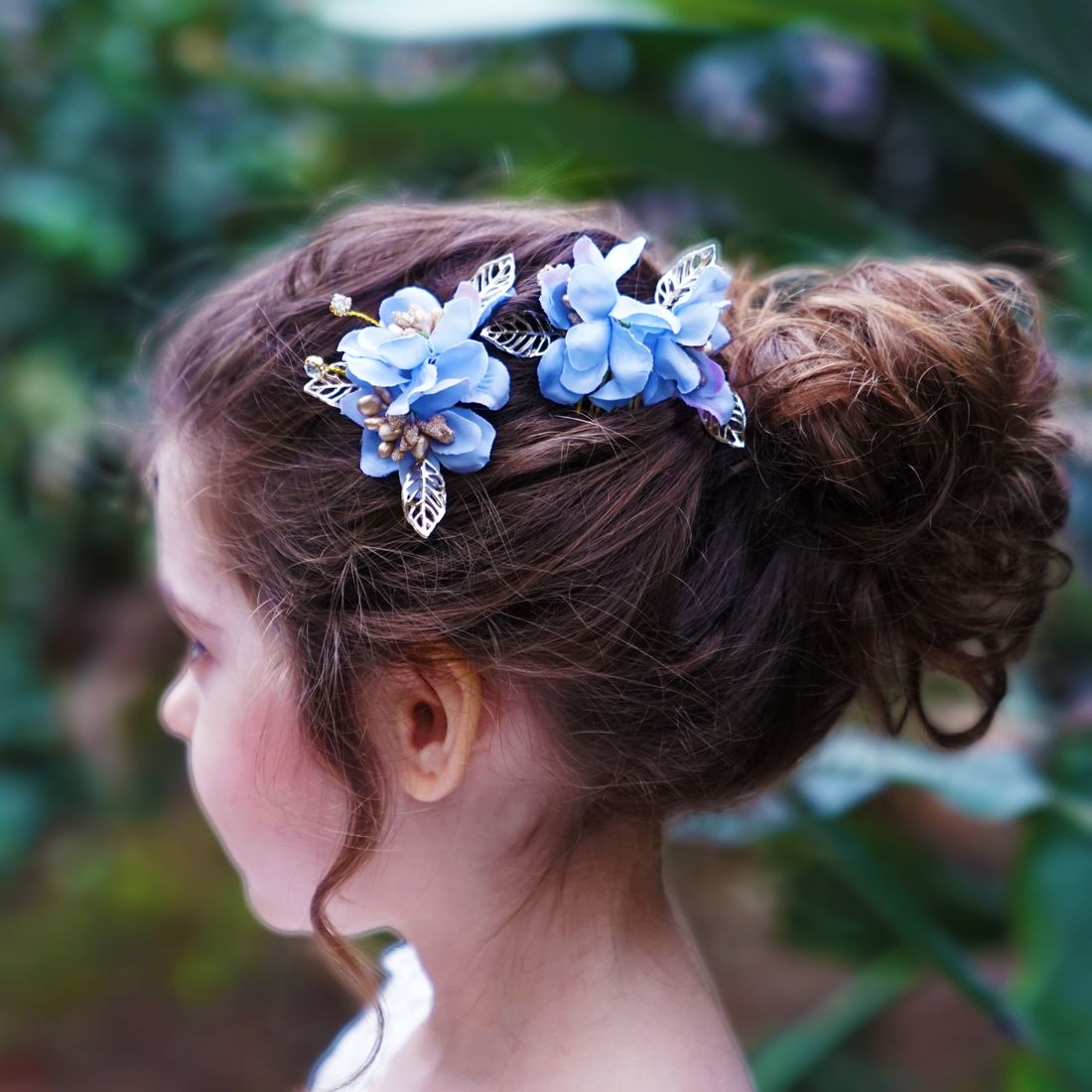 Blooming Haven Hair Comb Pair - Blue
$9.99
Regular price
$17.99
Hair flowers are the perfect accessories for gorgeous dresses, school day outfits, and play-time clothes. They're also ideal for special occasions, especially parties and weddings. A flower hair comb adds elegance and sweetness to all of your little girl's ensembles. She'll love the Blooming Haven Hair Comb Pair, which is available in a stunning shade of blue that brings to mind blossoming spring and summer flowers.
Blossoms for Baby Girls
When you want a versatile hair accessory, hair flowers are the best bet. The Blooming Haven Hair Comb will elevate your little girl's casual outfits, but it will also pair perfectly with her fanciest dresses. These lovely blossoms will adorn her head with natural beauty.
Our blue flower hair comb sparkles with eye-catching details – and we do mean that it sparkles! The pretty periwinkle flowers will brighten your little girl's eyes and bring rosiness to her cheeks. If she's the type of girl who likes a bit of bling and dazzle, then she'll love the Blooming Haven comb. Leaves made of gold metal accentuate the blue blossoms, adding to its dainty appeal. The hair piece also features crystal and gold beads in all the right places, creating a subtle sparkling effect.
The ability to switch up the placement of the comb adds to its versatility. Your little girl can wear both buds together as one large piece, or place a blossom on each side of her head. The combs can be tucked into buns, braids, ponytails, and hairstyles of all types.
Treat your girl to the Blooming Haven hair flower from Sara Dresses today!
Highest quality materials used, including soft tulle, delicate lace, and exquisite embellishments.
All dresses are lined with premium cotton for maximum comfort.
Stock: All items in stock, except those on pre-order.
Size: We run true to size, with "how to measure" guidelines provided
US Shipping: Ships from NY via USPS.
Canada Shipping: Ships from Ontario via Canada Post.
Processing: All orders processed within 24-48 hours.
Free shipping on orders over $60
Usually ships in 24 hours
---
Consult a stylists! Chat now
---
Blooming Haven Hair Comb Pair - Blue
$9.99
Regular price
$17.99
Shipping & Returns
International Shipping
We are happy to announce we officially ship internationally! All orders are dispatched from our US warehouse within 2 - 3 business days.
Order tracking
Tracking numbers are automatically sent as soon as your order is packed. Please check your junk folder if you do not receive one 72hrs after placing your order.
Get in touch
If you have any questions about your order, please chat or call (800) 513 7421. Our customer service is available Monday through Sunday from 8am until 9pm est.