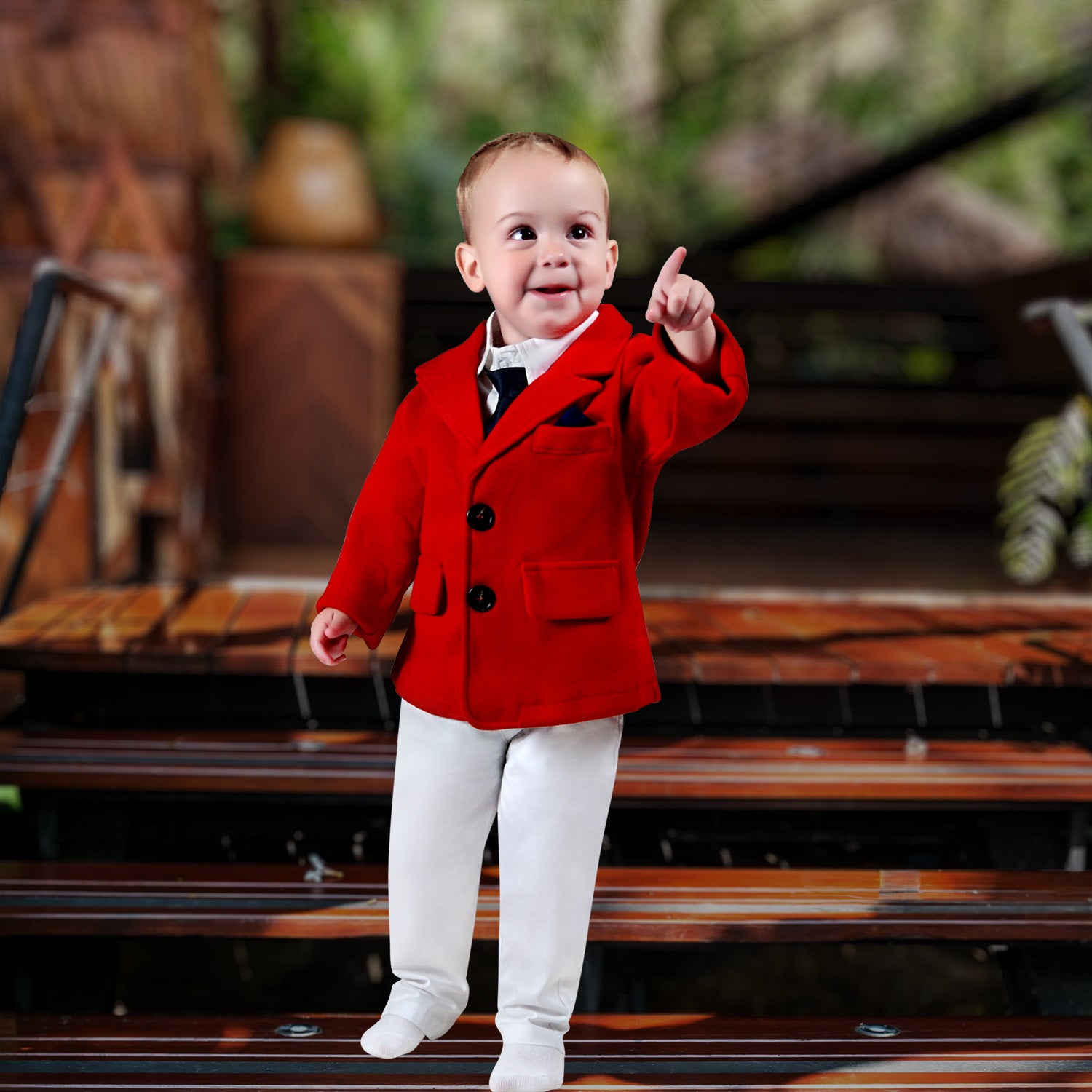 Romeo Boys Suit - Valentine Red
$68.99
Regular price
$199.00
Romeo Boys Suit - Valentine Red
Regal Elegance: The Romeo Boys Suit Set in Red and White 
Introducing the Romeo Boys Suit Set, a masterpiece in the timeless and striking combination of red and white. This ensemble is the epitome of regal elegance, perfect for special occasions and a true representation of how this color pairing reigns supreme in the world of boys' fashion.
At its heart, the Romeo Suit Set features a dashing red coat with a navy blue pocket square, a nod to classic sophistication. Paired with a crisp, white, full-sleeve button-down shirt, this ensemble exudes refinement and grace. The pièce de résistance is the blue tie, which adds a touch of modern flair while beautifully complementing the red and white theme.

The Romeo Suit Set's white pants provide a clean canvas for the vibrant red coat to shine, creating a balanced and harmonious look. Whether it's a formal event, a wedding, or any special gathering, this ensemble is designed to make your young gentleman stand out in style.

Red and white, a classic combination that transcends trends, finds its perfect expression in the Romeo Boys Suit Set. Embrace the timeless charm of this ensemble, where red exudes confidence and white symbolizes purity. Dress your young one in the essence of regal elegance, and watch as he captures hearts and admiration at any occasion.
Highest quality materials used, including soft tulle, delicate lace, and exquisite embellishments.
All dresses are lined with premium cotton for maximum comfort.
Stock: All items in stock, except those on pre-order.
Size: We run true to size, with "how to measure" guidelines provided
US Shipping: Ships from NY via USPS.
Canada Shipping: Ships from Ontario via Canada Post.
Processing: All orders processed within 24-48 hours.
Free shipping on orders over $60
Usually ships in 24 hours
---
Consult a stylists! Chat now
---
Romeo Boys Suit - Valentine Red
$68.99
Regular price
$199.00
Shipping & Returns
International Shipping
We are happy to announce we officially ship internationally! All orders are dispatched from our US warehouse within 2 - 3 business days.
Order tracking
Tracking numbers are automatically sent as soon as your order is packed. Please check your junk folder if you do not receive one 72hrs after placing your order.
Get in touch
If you have any questions about your order, please chat or call (800) 513 7421. Our customer service is available Monday through Sunday from 8am until 9pm est.