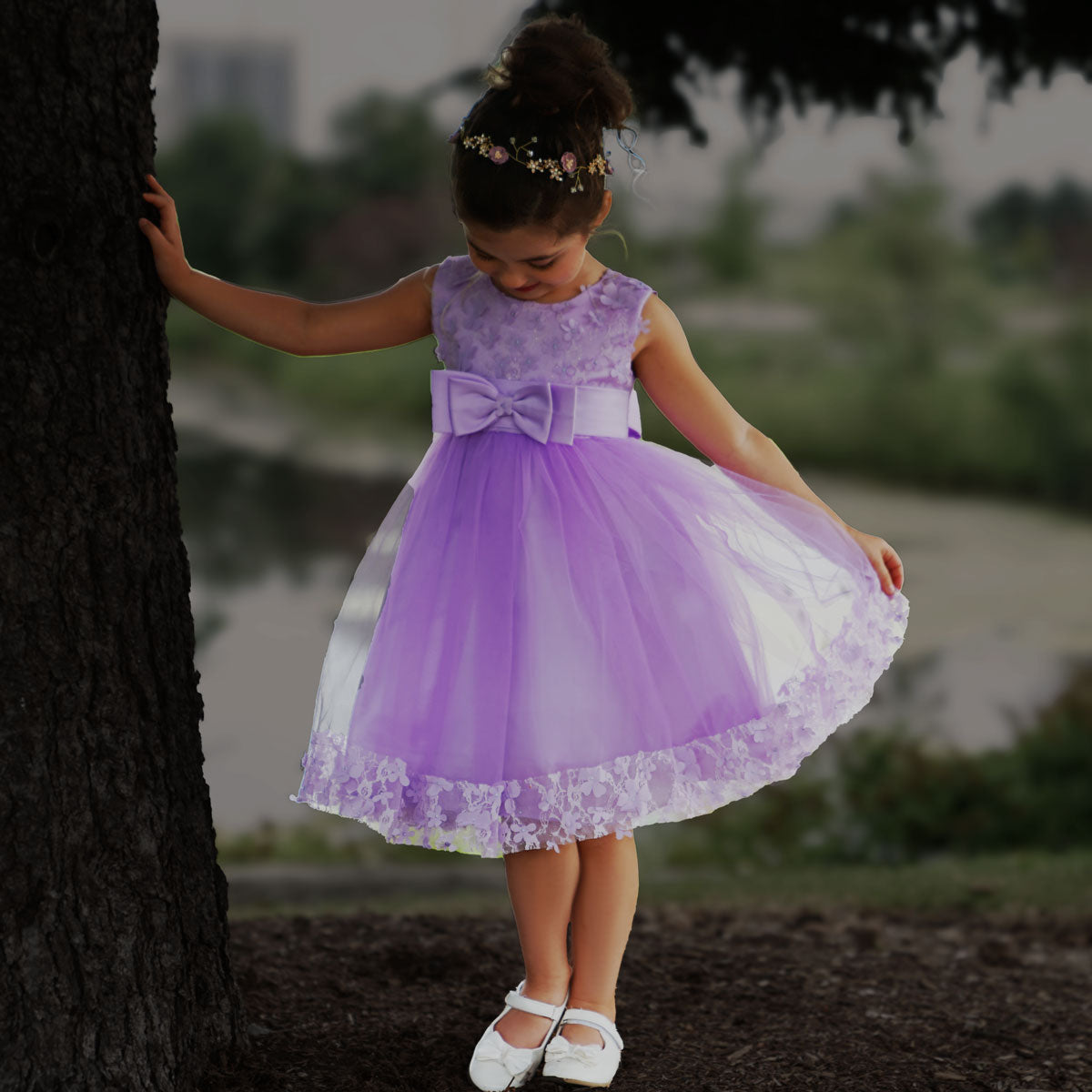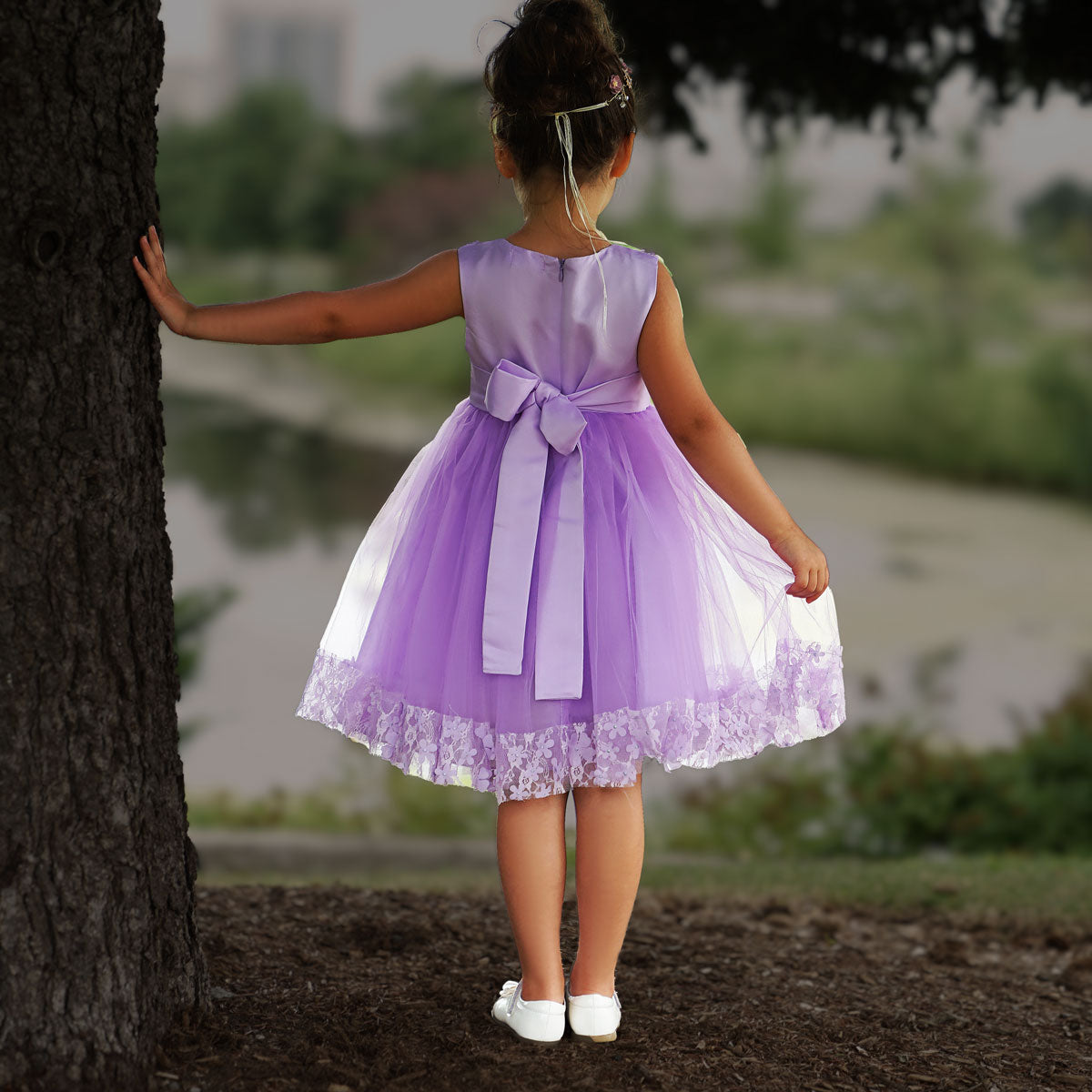 Victoria Dress - Lavender
$54.99
Regular price
$125.00
An alluring light purple dress, with an eternal bodice ingrained with detailed crafted work, seeping into a polished bow twirled elegantly around the waist, spreading to form a graceful A-line shape of sheer tulle.
One of our best selling dress, most wanted because of its versatility! The dress is as suitable for a flower girl at a wedding as it is for any party such as birthdays, festivals or any special occasions. The alluring color of purple is perfect for the holiday season. It not only adds cheer and brightens the festive mood, it also stands out  in those winter holidays against the beautiful backdrop of white snow! Nonetheless the Victoria dress  is not confined to the holiday season as it 's beauty and elegance makes it the dress which can be worn throughout the year, in any season on any occasion again and again and we promise it will be one of your anytime favorite dress in your girls wardrobe. The beautifully crafted patchwork coupled with elegant shined sequined fabric is embedded on the bodice with satin bow twirled around the waist spreading into a graceful A-line shape of sheer tulle is actually a twirlers dream. This stunning deep lavender dress is perfect choice for any occasion and can also be worn at any time of the year. This dress needs minimal accessories as it alone will steal the show. Sara dresses thrives hard to come up with impeccable dresses which are versatile for any occasion and can be worn throughout the year. These evergreen designs are definitely going to add to anyone's Keepsake collection! At Sara dresses we are thrilled to help you find unique beautiful dresses at prices you will love. Your search for that one place to shop for little baby girl's clothes and not so little girls dresses, flower girl dresses, birthday dresses, festive dresses or any occasion dresses would end here. We are committed to helping you find the best outfit for your girls as they deserve to look the best in every age and sphere of their lives. With Sara dresses dressing up our girls is so much fun as the options galore and is so much affordable! 
Show the world her wild side with this fun and festive dress! A purple in color, this bold and daring dress is perfect for the young lady with a mind of her own. A versatile dress, it can be used as a flower girl dress, a Christmas party, or throughout the year at birthdays and other events. 
When your young one has a dynamic personality that deserves a dress with pop, this is the one for her. Thanks to its vivid colors and strong design, it doesn't require any other jewelry to provide balance. Give your child a dress worthy of her mind and heart. Let your princess be the cynosure of all eyes! 
Material: Cotton and Polyester, Lining 100% Cotton
Highest quality materials used, including soft tulle, delicate lace, and exquisite embellishments.
All dresses are lined with premium cotton for maximum comfort.
Stock: All items in stock, except those on pre-order.
Size: We run true to size, with "how to measure" guidelines provided
US Shipping: Ships from NY via USPS.
Canada Shipping: Ships from Ontario via Canada Post.
Processing: All orders processed within 24-48 hours.
Free shipping on orders over $60
Usually ships in 24 hours
---
Consult a stylists! Chat now
---
Victoria Dress - Lavender
$54.99
Regular price
$125.00
Shipping & Returns
International Shipping
We are happy to announce we officially ship internationally! All orders are dispatched from our US warehouse within 2 - 3 business days.
Order tracking
Tracking numbers are automatically sent as soon as your order is packed. Please check your junk folder if you do not receive one 72hrs after placing your order.
Get in touch
If you have any questions about your order, please chat or call (800) 513 7421. Our customer service is available Monday through Sunday from 8am until 9pm est.